15
15
Ingredients
Base
1000 g of Tegral Scone*
420 g of Water (cold)
Filling
1/3 l of Cuisipak*
1/3 l of Whole eggs
1/3 l of Milk
4 g of Nutmeg
8 g of Salt
Q.S. of Pepper
1 pc of Broccoli (head)
100 g of Feta
Decoration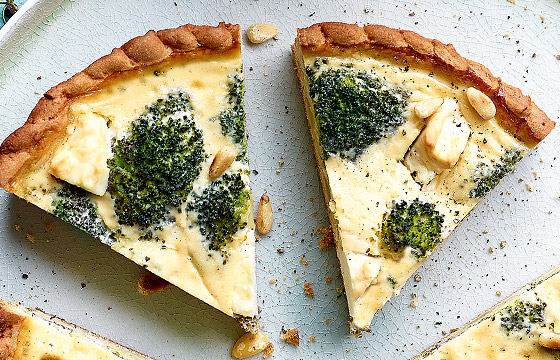 Working Method
Base
Mix Tegral Scone and the water for 1 min. at slow speed and for 1 min. at medium speed. 
Roll out the dough with a 3 mm thickness and put it in the mould. 
Filling
Blanch the broccoli, drain it well and and let it cool down. 
Mix the Cuisipak, milk, and eggs until you have a homogeneous mixture. 
Season with salt, pepper and nutmeg. 
Add the broccoli and the feta to the bottom of the mould and then pour the liquid filling into the mould. 
Bake for 45 min. at 190 °C. 
Decoration
To decorate, sprinkle some roasted pine nuts on top of the quiche.