Recipes
Patisserie
Bakery
Chou Pastry ( Eclair)
Recipe
Ingredients
Base
1000 g of Tegral Clara Ultra*
1820 g of Water
450 g of Oil    
Filling
1 pc. of Sausage (hot dog type such as Zwan)
Q.S. of Sauerkraut
Q.S. of Red pepper
Decoration
Q.S. Ketchup
Q.S. Mustard
* Puratos product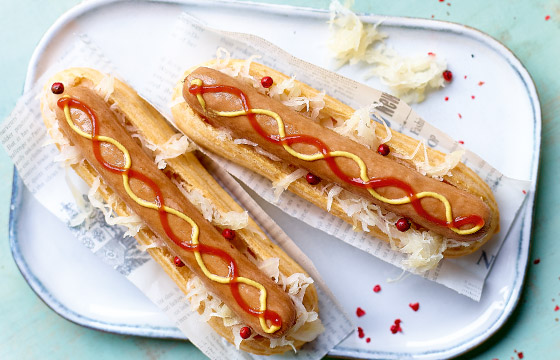 Working Method
Base
Mix all the ingredients for 4 min. at medium speed.
Pipe the dough into an éclair hape of 13 cm long.
Bake for 10 min. at 180 °C with losed damper and for 30 min. at 180 °C with open damper.
Filling
Cut the éclairs open on the top with a knife and fill with sauerkraut.
Put the sausage on top and heat up in the over for 10 min. at 160°C.
Decoration
Decorate with mustard and ketchup. 
Serve warm.