Ingredients
Base
1000 g of Tegral Satin Cream Cake CL*
190 g of Golden 6 Clean Label*
200 g of Belcolade Dark Chocolate Chunks*
Q.S. of Puravita Decor Multi Seeds & Multi Flakes*
350 g of Eggs
300 g of Oil
225 g of Water
Filling
1000 g of Cremfil Ultim Vanille*
50 g of Classic Moka* (5% batter)
Decoration
Q.S. of Harmony Classic Neutre*
Q.S. of Coffee beans
Q.S. of Anise flowers
Q.S. of Coconut (shaved)
*Puratos product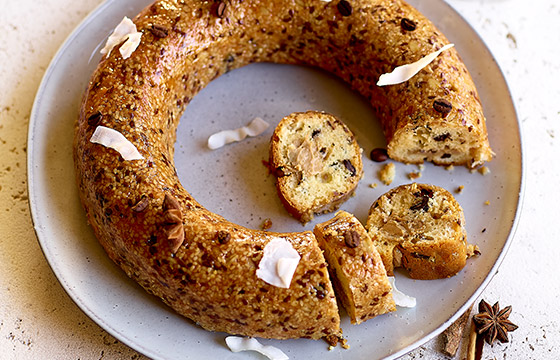 Working Method
Mix the eggs, oil, water and the Satin Cream Cake CL for 4 min. at medium speed with a flat batter.
Add Softgrain Amber Grain and the Belcolade Dark Chocolate Chunks and mix for 1 min. at slow speed.
Decorate the mould with Puravita Decor Seeds & Flakes and pipe 1/2 of the batter into the mould.
To make the coffee cream, mix the Cremfil Ultim Vanille and Classic Moka together and then pipe the mix in the middle of the batter.
Pipe the rest of the batter and bake for approximately 35 min. at 180°C closed damper. 

To decorate, glaze the cake with Harmony Classic Neutre and top with some coffee beans, anise flowers and shaved coconut.